Free delivery in The Hague (PC 25) - Free shipping NL above €75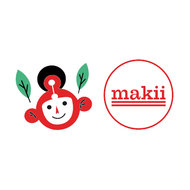 MAKII - Makii is a design studio from Rotterdam. They want to inspire children to let their creativity flow. They make coloring pages, window stickers, tattoos, scratch pictures and adventure packs in various themes and sizes. Creativity and teamwork stimulate the child's imagination and let them learn through play.

The next step in the range is the ANIMAL PARADE. Wooden animals based on the designs of toy manufacturer Konrad Keller from 1965. Makii wants to produce these locally, socially and sustainably. For example, the Dutch FSC wood is purchased from Staatsbosbeheer and the animals are made at the Stichting Stund. This is a social enterprise from Delft, for people who - due to circumstances - are not yet ready for regular work. A crazy story!
This website uses cookies to measure visits. We do not store any personal data.