Wood to last for generations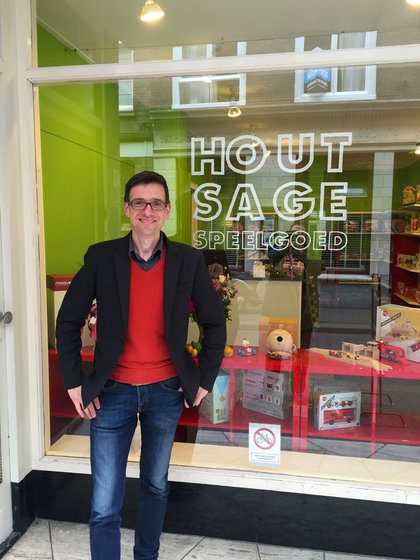 Hout Sage Toys started in 2016 by Caspar Vedral. Wooden toys are his passion. This passion for wood stems from over a hundred years of family tradition as woodworkers. In 1908 his grandfather began a business in sales and repair of string instruments in the Molenstraat in The Hague. Just a couple of steps away from todays location of Hout Sage Toys store.

Hout Sage Toys stands for fair and durable toys. Of course these toys are first of all fun to play with, but also educational, strong, durable, safe and worth the money. All this could be found in wooden toys, which is why this is the core of our product offer.
Wooden toys are just fun to play with
Children could play with these toys endlessly. They are colorful, have a nice feel and touch and are beautiful to look at. We offer you a wide range of toys, from simple blocks to complex marble tracks, to bubble puzzles and brain teasers and rattles to complete children's kitchens. You always will find something of your choice for a nice gift.
Wooden toys are educational
Wooden toys have a simple basic shape compared to most of the plastic toys. For this they stimulate children more to use their own imagination and creativity. They have to push, pull and turn the wooden toys themselves, which leads to a more active mind. It's well know that playing with wooden blocks stimulates spatial awareness, recognizing shapes and colors and eye-hand coordination.
Wooden toys are strong
These toys could take a beating and pieces will not break easily. We only offer quality brands which are know for making sold toys. These could last for generations.
Wooden toys are sustainable
For our product offer, we select as many sustainable wood products as possible. For example toys which are made of rubber wood. This wood comes from trees that have been used for the production of latex and have reached the end of their production cycle. Other toys are made of leftovers from other manufacturing processes like the cars made by Goochem design. Plantoys even uses the sawdust from their own production process to make new toys again. So no material will get lost. Other brands use wood with the FSC quality mark. This means that this wood comes from sustainable resources.
Wooden toys are safe
All our toys meet to the highest safety standards. They are made by using water-based paint or soy oil is used instead of synthetic materials. We only select toys with a solid design. Our toys are well finished and don't have any splinters. We prefer only to have the best quality and safest toys for your children.
Wooden toys are worth the money
It is true that wooden toys are more expensive, but they also could last for generations. Who does not know the wooden toys in the attic of our grandparents ready to play with by you and future generations. They are timeless in design.

This is the story Hout Sage wants to live on with next generations of kids and parents.

Wood Sage repair service: Wooden toys are durable, but occasionally something could break. Don't worry, Hout Sage offers the possibility for (minor) repairs. Our service includes : repair of split wood, gluing and screwing of parts and replacement / counterfeiting of parts. Send a message or visit our store so we could see what might be done and make you an offer for repairs.

Discover Wood Challenging Timeless
Play Learn Enjoy Energetic